21st November – 13th December 1980
New Japan signed off in 1980 with their huge 22-date tour to crown the inaugural MSG Tag League tournament champions. This tour took place across the country of Japan and not in New York… so you might be asking why did these tours reference MSG (Madison Square Garden)?
The thinking behind naming the tour and the tournament under the MSG moniker is that New Japan Pro Wrestling was bringing the MSG atmosphere and its talent to the Japanese shores.
As you'll discover by reading on, a plethora of World Wrestling Federation talent was used in this tour as the partnership between the two promotions go from strength to strength.
Night One – 21st November 1980 – Yokohama Cultural Gymnasium, Yokohama
The tour began with two big matches in the tournament under the lights of the TV cameras in Yokohama.
Andre the Giant and The Hangman overcame Seiji Sakaguchi and Strong Kobayashi in 7:09 as the team of Stan Hansen and Hulk Hogan defeated Tiger Jeet Singh and Umanosuke Ueda by DQ under over six minutes.
Other matches on the opening night saw veteran Rene Goulet taste defeat against 29-year-old Riki Choshu and in the main event, six-man action stole the show and sent the 6,000 in attendance home with a smile on their face.
The good guy team of Antonio Inoki, Tatsumi Fujinami and Kengo Kimura pinned the Gaijin team of Johnny Powers, Ox Baker and Bad News Allen in just over ten minutes.
Night Two – 22nd November 1980 – City Gymnasium, Numazu, Shizuoka
The second show of the tour saw Andre and the Hangman continue their winning ways and pull away at the top of the league, with a quick win over Tatsumi Fujinami and Kengo Kimura in under five minutes.
Bad News Allen and Dutch MMA specialist Willem Ruska got their campaign underway with a victory against Riki Choshu and Kantaro Hoshino.
Night Three – 24th November 1980 – Aomori Prefectural Gymnasium, Aomori
Just the solitary tournament match in Aomori as Hulk Hogan & Stan Hansen defeated Seiji Sakaguchi & Strong Kobayashi in 9:50 to join Andre and Hangman at the top of the table.
In the main event, Inoki, Choshu and Fujinami fought Andre, Hangman and Rene Goulet in a Best of Three Falls bout. Fujinami pinned Goulet for the first fall but then both teams were counted out in the second fall and the match was halted.
Night Four – 25th November 1980 – City Gymnasium, Hachinohe, Aomori
Hangman and Andre surged back to the top of the pile with a win over Choshu and Hoshino on night four in front of 4,000 in the tournament. Kimura and Fujinami also got themselves on the board with their first victory over Johnny Powers and Ox Baker.
Headlining in the City Gymnasium, Inoki, Sakaguchi and Kobayashi battled Hogan, Hansen and Allen in a six-man tag bout. Inoki gained the win for his team getting the pin over Bad News in 14:34.
Night Five – 26th November 1980 – Civic Gymnasium, Hirosaki, Aomori
Hogan and Hansen won their third bout in a row in the tournament with a victory over Allen and Ruska in just over eight minutes and the team of Hoshino and Choshu beat Powers and Baker in 9:16 in the other Tag league bout.
In a huge main event tag match, Fujinami and Inoki faced Andre and Goulet in another Best of Three Falls match with the Japanese duo coming out on top.
Night Six – 27th November 1980 – City Gymnasium, Koriyama, Fukushima
In front of 3,700 fans, Tiger Jeet Singh & Umanosuke Ueda grabbed their first win in the tournament in 10:25 against Johnny Powers & Ox Baker. While, Hogan and Hansen gained a fourth consecutive win against Choshu and Hoshino to pull a good lead at the top of the MSG Tag League.
Andre, Hangman and Goulet gained a good win over Inoki, Fujinami and Kimura in the main event with Andre going over Fujinami in just over 12 minutes.
Night Seven – 28th November 1980 – Miyagi Prefectural Sports Center, Sendai, Miyagi
The TV cameras were in town as two more tournament matches took place in Sendai on night seven of the tour and it included the biggest match yet of the tour.
Andre the Giant and The Hangman clashed with Hulk Hogan and Stan Hansen but neither team prevailed with any points as the match ended in a double count out.
In another tournament bout, Tiger Jeet Singh & Umanosuke Ueda defeated Kengo Kimura & Tatsumi Fujinami in 11:48. In addition, in singles competition, Antonio Inoki squashed Ox Baker in under three minutes.
Night Eight – 29th November 1980 – City Gymnasium, Iwata, Shizuoka
In Iwata, Seiji Sakaguchi and Strong Kobayashi grabbed a tournament win over Johnny Powers and Ox Baker in 13:51, and Andre and Hangman beat Allen and Ruska in under five minutes to add more points to their tally.
Night Nine – 30th November 1980 – City Gymnasium, Okazaki, Aichi
Andre and The Hangman continued their dominance in singles action as they beat Seiji Sakaguchi and Haruka Eigen respectively.
In tournament action, Choshu and Hoshino picked up points against Tiger Jeet Singh and Umanosuke Ueda via a DQ decision. Allen and Ruska's campaign got worse with a defeat to Fujinami and Kimura.
The WWF team of Hogan, Hansen and Goulet were victorious by two falls to one against Inoki, Kobayashi and Osamu Kido in a six-man main event.
Night Ten – 1st December 1980 – Aichi Prefectural Gymnasium, Nagoya, Aichi
A double count-out ended arguably the most anticipated bout of the whole tour as Inoki and Bob Backlund clashed with Hulk Hogan and Stan Hansen. This was Inoki and Backlund's first match in the competition as Bob had just arrived in the country the night before after spending the end of November defending his WWF title in the States.
In the other Tag League match, Allen and Ruska once again came up short. This time to the team of Sakaguchi and Kobayashi.
Night Eleven – 2nd December 1980 – Ota Ward Gymnasium, Tokyo
Inoki and Backlund got off the mark in front of the Ota Ward Gym crowd with a quick win over Powers and Baker in 3:57. Their rivals, Hogan and Hansen, got back to winning ways defeating Fujinami and Kimura in under ten minutes.
Night Twelve – 3rd December 1980 – General Gymnasium, Matsusaka, Mie
Three tournaments matches took place in Matsusaka with Allen and Ruska picking up a rare win over Powers and Baker in a wild brawl.
Tiger Jeet Singh and Umanosuke Ueda defeated Sakaguchi and Kobayashi and the General Gymnasium were presented a sar-studded main event.
Inoki and Backlund clashed with Andre the Giant and The Hangman to a double count out that went nearly 15 minutes.
Night Thirteen – 4th December 1980 – Civic Center, Gifu
In Gifu, Allen and Ruska returned to losing ways against Inoki and Backlund as Sakaguchi and Kobayshi grabbed a win over Fujinami and Kimura.
Two singles bouts stood out as Andre the Giant picked up a win in 3:07 against Riki Choshu and Tiger Jeet Singh and Hulk Hogan brawled to a double count out.
Night Fourteen – 5th December 1980 – City Gymnasium, Tokushima
Even though they are both disliked by the Japanese crowd recently, Hulk Hogan and Andre the Giant reignited their feud from stateside on Night 14 in a bout that finished after the referee counted both men out of the ring.
In tournament bouts, Kimura and Fujinami defeated Choshu and Hoshino while Inoki and Backlund picked up another maximum points with a win over Ueda and Tiger Jeet Singh.
Night Fifteen – 6th December 1980 – Okayama Budokan, Okayama
Playing catch up on the other teams in the tournament, Inoki and Backlund clinched another victory against Fujinami and Kimura in a scientific match-up.
Hogan and Hansen paired up in a non-league bout against Choshu and Sakaguchi with the American duo won in 8:08.
Night Sixteen – 7th December 1980 – Minami Kyushu Junior College Gymnasium, Miyazaki
Inoki and Backlund gained more ground on the other teams with a win over Choshu and Hoshino in the only tournament match in Miyazaki.
In singles action, Andre the Giant pinned Haruka Eigen in quick fashion, just over two minutes. Hulk Hogan saw off the challenge of Kengo Kimura in 4:18 while The Hangman defeated Osamu Kido.
Night Seventeen – 8th December 1980 – Kagoshima Prefectural Gymnasium, Kagoshima
Unfortunately the television cameras were not present in Kagoshima for a singles bout between Fujinami and Hogan and a Hansen and Choshu clash. The Japanese competitors both tasted defeat in the pair of one-on-one bouts.
In tournament action, Ueda and Singh pulled off the shock of the Tag League so far capturing a victory over The Hangman and Andre the Giant.
Meanwhile, Inoki and Backlund grabbed the top spot in the standings with a win over Sakaguchi and Kobayashi. The win meant that Inoki and Backlund would face off against Hogan and Hansen in the tournament finals in Osaka on 10th December.
Night Eighteen – 9th December 1980 – Kyuden Memorial Gymnasium, Fukuoka
In their first-ever one-on-one encounter, Dusty Rhodes and Hulk Hogan faced off in Fukuoka. In an entertaining match, Rhodes ran out the winner after Hogan pushed the referee out of the way twice to earn himself a disqualification.
It was a night of jaw-dropping one-on-one encounters with Stan Hansen and Bob Backlund facing off in a non-title affair. Backlund was awarded the win via a disqualification.
In the main event of the evening, Andre the Giant rekindled an old feud with Antonio Inoki. The match went 16:04 but the crowd failed to see an outright winner as both men were counted out after the action spilled to the outside.
In the only tournament match of the night, Seiji Sakaguchi and Strong Kobayashi won their bout over Kantaro Hoshino and Riki Choshu. As the finals were set and the finalists unable to be caught by the results of this bout, the points did not impact the league standings.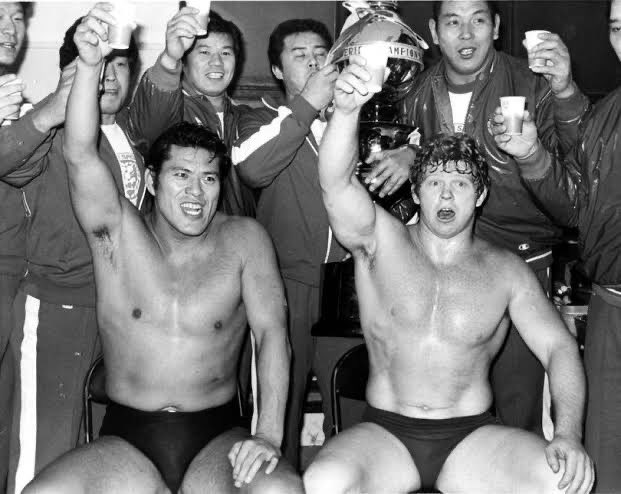 Night Nineteen – 10th December 1980 – Osaka Prefectural Gymnasium, Osaka
Antonio Inoki and Bob Backlund clinched the MSG Tag League 1980 trophy defeating Stan Hansen and Hulk Hogan in the finals.
Inoki and Backlund battled adversity throughout the bout with the sheer power of Hansen and Hogan troubling the good guys, along with the constant double-teaming added to the fact that the American referee took a lenient approach when enforcing the rules.
Inoki and Backlund began to take their opponents down to the ground eliminating the strength but Hogan and Hansen again took advantage of the referee's leniency. Backlund took some punishment initially before making the hot tag and then Inoki took the brunt.
However, it was Inoki and Backlund that would prevail as winners on 17:35. As rivals Hansen and Backlund brawled on the outside, Hogan was working over Inoki and went to slam the NWF Champion. Inoki slipped out of the move into a back slide for the quick three count.
An irate Hansen returned to the ring and nailed Inoki and the Texan and Hogan beat on Inoki some more until Backlund emerged for the save. Backlund would return home after the celebrations but was due to return to the Land of the Rising Sun in the new year.
Note: You can watch the 1980 MSG Tag League here at NJPWWorld.com.
Other matches on the night included Tatsumi Fujinami pinning Rene Goulet in 11:04 and Dusty Rhodes faced off with Tiger Jeet Singh which ended in a no-contest after the referee lost control of the brawl.
Night Twenty – 11th December 1980 – City Gymnasium, Anjo, Aichi
In the first of three matches for the pairing, Dusty Rhodes teamed up with Antonio Inoki to treat the Anjo fans and grabbed a win over Tiger Jeet Singh and Umanosuke Ueda by two falls to one in a three fall contest.
Seiji Sakaguchi fell to Hulk Hogan via countout in Hogan's last appearance of the tour and in a quick match that lasted only 3:22, Stan Hansen and Andre the Giant ended with a double count out decision.
Night Twenty-One – 12th December 1980 – Municipal Sports and Cultural Hall, Owase, Mie
Inoki and Rhodes defeated Bad News Allen and Stan Hansen in the main event in Owase on the penultimate night of the tour. The good guys grabbing a 2-1 win in a three-fall bout in 11 and half minutes.
Night Twenty-Two – 13th December 1980 – Tokyo Metropolitan Gymnasium, Tokyo
The final match of the final night of the tour saw Inoki and Rhodes tagging together for the last time against Tiger Jeet Singh and Stan Hansen. The match did not turn out as many suspected as all four men brawled into the crowd and were counted out.
The unity between NJPW and the WWF was shown in force on this tour with the American promotion's representatives coming out on top multiple times over their Japanese counterparts.
NJPW proclaimed that the New Year Golden Series tour in January would feature more WWF competitors with Bobby Duncum, Ken Patera, and The Samoans announced. Also joining them would be youngster Tom Pritchard, returning Stampede wrestler Bad News Allen and newcomer The Enforcer announced as the Gaijins on excursion.
After pairing with Stan Hansen and clashing with Inoki and Backlund on Japanese soil, Hulk Hogan is becoming a popular heel in the promotion and further bookings against Inoki and company must be on the cards for future cards.
This was really interesting seeing Andre as a heel at this point in his career in Japan. Always a spectacle on any card, the emotion he showed with his loud laughter when victorious and howls when he went crashing down to the canvas is something you do not hear stateside due to the noise of the crowds.
The young and very green Hogan is doing well for the spots he has been placed into and looks to be getting over more and more each time he visits the promotion.
Some really good action in this tournament, which is a great format for mixing styles and placing the stars in tag matches against each other and teasing singles bouts for the future.
I have designed a poster for this event, check it out by visiting our artwork page.
As always, thanks for reading…
Will Burns
Source: Cagematch.net, WrestlingData.com, NJPW World