It is July 1980 and this was a huge month for professional wrestling. We have news on two huge upcoming shows in Florida and New York, numerous title switches and we follow the World Champions' progress as the summer continues in the NWA affiliated territories.
NWA World Heavyweight Champion Harley Race defended the World Heavyweight Championship coast to coast this past month, taking on all comers.
| | | |
| --- | --- | --- |
| DATE | EVENT | RESULT |
| 4/7/80 | Stampede Wrestling – Calgary, Alberta, Canada | Harley Race beat Hercules Ayala to retain the NWA World Heavyweight Title. |
| 6/7/80 | Georgia Championship Wrestling – The Omni, Atlanta, GA | Harley Race and Tommy Rich went to a no contest. Race retains the NWA World Heavyweight Championship. |
| 11/7/80 | Stampede Wrestling – Calgary, Alberta, Canada | Harley Race beat Archie Gouldie to retain the NWA World Heavyweight Title. |
| 17/7/80 | Central States Wrestling – Memorial Hall, Kansas City, MS | Rufus R. Jones beat Harley Race via disqualification. Race retained the NWA World Heavyweight Title. |
| 20/7/80 | Georgia Championship Wrestling – The Omni, Atlanta, GA | Harley Race defeated Tommy Rich to retain the NWA World Heavyweight Championship. Former NWA champion Lou Thesz was the special guest referee. |
| 21/7/80 | Georgia Championship Wrestling – William Bell Auditorium, Augusta, GA | Tommy Rich defeated Harley Race via DQ. Race retains the NWA World Heavyweight Title. Former NWA champion Lou Thesz was the special guest referee. |
| 22/7/80 | Mid-Atlantic Championship Wrestling – Dorton Arena, Raleigh, NC | Harley Race defeated Ric Flair via count-out to retain the NWA World Heavyweight Championship. |
| 23/7/80 | Georgia Championship Wrestling – Municipal Auditorium, Columbus, GA | Harley Race defeated Tommy Rich to retain the NWA World Heavyweight Title. |
| 24/7/80 | Georgia Championship Wrestling – Chilhowee Park, Chattanooga, TN | Harley Race defeated Tommy Rich to retain the NWA World Heavyweight Title. Former NWA champion Lou Thesz was the special guest referee. |
| 26/7/80 | Mid-Atlantic Championship Wrestling – Charlotte Coliseum, Charlotte, NC | Harley Race defeated Sweet Ebony Diamond to retain the NWA World Heavyweight Title. |
| 26/7/80 | Mid-Atlantic Championship Wrestling – Memorial Coliseum, Spartanburg, NC | Ric Flair and Sweet Ebony Diamond beat Greg Valentine and Harley Race. |
| 27/7/80 | Big Time Wrestling (Texas) – Dallas, TX | Harley Race beat El Halcon to retain the NWA World Heavyweight Title. |
| 28/7/80 | Big Time Wrestling (Texas) – Fort Worth, TX | Kerry von Erich defeated Harley Race in a special challenge match. |
| 28/7/80 | Big Time Wrestling (Texas) – Fort Worth, TX | Harley Race and Fritz von Erich went to a double count out. Race retains the NWA World Heavyweight Title. |
| 29/7/80 | World Wrestling Federation – Agricultural Hall, Allentown, PA | Harley Race defeated Paul Figueroa in a non-title match. |
| 29/7/80 | World Wrestling Federation – Agricultural Hall, Allentown, PA | Harley Race beat Kid Sharkey in a non-title match. |
| 29/7/80 | World Wrestling Federation – Agricultural Hall, Allentown, PA | Harley Race defeated Rick McGraw in a non-title match. |
ALL-JAPAN PRO WRESTLING
The Summer Action Series 1980 got underway at City Center in Tsushima, Aichi (11/7) with Bruiser Brody, "Big Cat" Ernie Ladd, Pampero Firpo, Don DeNucci, Prince Tonga, The Davidson Brothers and David Sammartino joining the Japanese regulars on the tour. Tonga (pictured above) is a youngster from NWA Polynesian Wrestling and has been tag-teaming with Giant Baba and Jumbo Tsuruta in tag and six-man action against Brody, Ladd and Firpo and has been impressive being successful in all matches bar one against The Davidsons when tagging with Rocky Hata.
The tour is set to conclude on 7th August at Korakuen Hall with Tsuruta defending his NWA United National title against Bruiser Brody and Giant Baba will meet Ernie Ladd one-on-one in a double main event.
BIG TIME WRESTLING (TEXAS)
The NWA World Heavyweight Champion Harley Race stopped by in Dallas (27/7) and Fort Worth (28/7) and defend the belt against El Halcon and Fritz Von Erich respectively. Race was also defeated by young Kerry Von Erich in a special challenge match on the Fort Worth show.
CENTRAL STATES WRESTLING
The big monthly show at the Memorial Hall in Kansas City nearly saw a new NWA World Heavyweight Champion as Harley Race lost via disqualification to Rufus R. Jones in a tight contest. Also at the event, Takachiho and Killer Karl Kox retained the Central States Tag Team titles against Ted DiBiase and Dick Murdoch.
CHAMPIONSHIP WRESTLING FROM FLORIDA
Eddie Graham is promoting "the greatest show in the history of Tampa" on August 3rd at Tampa Stadium, Tampa, Florida. It is billed as "The Last Tangle in Tampa" and will feature Dusty Rhodes looking to regain the NWA World Heavyweight Championship against Harley Race with Fritz von Erich signed on as the special referee. It will be a best of three falls encounter with no disqualifications and Dusty has vowed he will never wrestle Race again if he fails to regain the belt. Bob Backlund will defend the WWF Title against NWA Florida Heavyweight champion Don Muraco and in a battle of the giants, Andre the Giant clashes with "Big Cat" Ernie Ladd.
Graham also promoted "Star Wars '80 II" on 4th July at the Hollywood Sportatorium which hosted a one-night eight-team tournament for the NWA Florida United States Tag Team titles and $50,000 Challenge Cup. In a shock result, Bugsy McGraw and Dusty Rhodes defeated Dory & Terry Funk to win the championships, the money and the trophy. They defeated Mr. Saito and Dick Slater and Ivan Koloff and Nikolai Volkoff on the way to the finals.
GEORGIA CHAMPIONSHIP WRESTLING
The ever-popular Tommy Rich has been chasing Harley Race's World Heavyweight Title throughout the year and has come close on various occasions to become the new titleholder. The youngster may never be as close as at the Omni on 20th July. Although the bout only went just over 15 minutes, in front of a packed crowd and the legendary former NWA champion Lou Thesz as special referee, Rich went close many times and had the champion in a bloody mess.
Rich has also challenged Ole Anderson and here is the reason why…
The Omni 20/7 show also featured one of the most shocking angles in the history of Georgia wrestling. A tag team cage match took place with The Assassins putting the Georgia Tag Team Titles on the line against Dusty Rhodes and Ole. Two referees were assigned with Gene Anderson representing Ole and Dusty and Ivan Koloff for The Assassins. Blood was flowing early on from Dusty's forehead and he began wildly swinging and accidentally punched Gene. Ole was tagged in and Dusty ended up taking a beating off all five men inside the cage.
The Omni crowd littered the ring with food, drinks and additionally a chair was thrown into the ring. Lars Anderson scaled the cage and ended up helping Dusty but he also ended up being outnumbered. A truly odious act by Ole and Dusty vows to gain revenge on him, Gene, Koloff and the Assassins. On August 1st at the Omni, he will get the chance to gain some retribution as he will face Ole and Gene Anderson – his partner will be Andre the Giant!
The Assassins lost the Georgia Tag Team titles ten days later by the team of Steve Keirn and Mr. Wrestling. The bout took place at the Municipal Auditorium in Columbus (30/7) again inside the confines of a steel cage.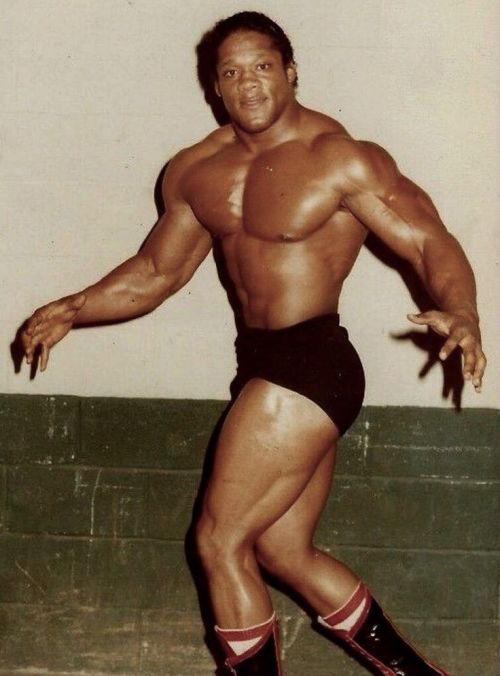 HOUSTON WRESTLING
Tony Atlas has secured another shot at the NWA World Title after a pinfall victory over the man holding the NWA American Heavyweight title, "Gorgeous" Gino Hernandez at the Sam Houston Coliseum on 18/7. Promoter Paul Boesch has managed to secure Harley Race to appear in Houston on August 1st and Atlas will go one-on-one with the champion in a three falls encounter.
MAPLE LEAF WRESTLING
NWA United States Champion Ric Flair met in the ring with his adversary Greg Valentine at the Maple Leaf Gardens on the 20th July. Valentine dominated the bout and repeatedly targeted Flair's broken nose, but the champion retained after Valentine attempted to suplex the Nature Boy into the ring from the apron, however, Flair landed on Valentine and hold him down for the three. After the bell, they had to be pulled apart by members of the locker room on the ramp – the feud continues.
On the same night, the NWA Canadian Heavyweight Champion The Great Hossein Arab dropped his title to veteran Angelo Mosca. Arab will get a rematch on the next Gardens show on the 10th August.
MID-ATLANTIC CHAMPIONSHIP WRESTLING
The crowds have been flocking and the tickets sales have been through the roof due to the arrival of Andre the Giant to the territory. The Frenchman has been teaming up with Ric Flair and Blackjack Mulligan in six-man tag team matches and typically, winning battle royals.
On the 1st at Dorton Arena, Raleigh, former NWA World Tag Team Champions Ricky Steamboat and Jay Youngblood aimed to regain the belts from Ray Stevens and Jimmy Snuka but once Gene Anderson got involved, Steamboat and Youngblood lost their discipline and were disqualified. There were numerous rematches across the month but Anderson's Army is still in possession of the titles.
The war between Ric Flair and Greg Valentine has escalated this past month accumulating into the situation that Valentine is now the NWA United States Champion.
These two battled throughout the month, with matches at the Richmond Coliseum (4/7), Greensboro Coliseum (6/7) and at Greenville Memorial Auditorium on 7th July. Flair held the title until he was in front of his hometown fans on a big show at the Charlotte Coliseum on the 26th July. Flair tried to plant the Figure Four leglock on Valentine, but Greg kicked Flair into the turnbuckle. Flair rebounded and Valentine rolled Flair up for the 1-2-3. The Coliseum crowd were far from happy from the ending of this one.
Flair started the chase to claim the title back on 28th back to Memorial Auditorium, Greenville and next night at the Columbia Township Auditorium, however, although he won both bouts by disqualification, the frustrated Nature Boy left without regaining his title.
NEW-JAPAN PRO WRESTLING
Antonio Inoki and Tatsumi Fujinami are set to travel to the States to appear on the WWF's Showdown at Shea show next month. Fujinami will defend his WWF Junior Heavyweight Title against Mexican superstar Chavo Guerrero.
The Summer Fight Series continued with the strong Stampede Wrestling contingent providing a great showing. One guy that really impressed was Bret Hart who was joined by his brother Keith on the tour, which they had some success also. Meanwhile, Bret nearly took gold back to Canada but was narrowly beaten by Kengo Kimura in a match for the vacant NWA International Junior Heavyweight belt (23/7 – Kitakyushu, Fukuoka). Despite that defeat, Bret gained some good victories against Kimura (2/7), George Takano (4/7, 13/7 and 19/7), Yoshiaki Fujiwara (8/7 and 21/7), Kantaro Hoshino (9/7) and Junji Hawata (14/7).
PACIFIC NORTHWEST WRESTLING
Huge news emerged out of the Portland Wrestling TV show on 26th July, that the current PNW Tag Team champions The Sheepherders, Luke Williams and Butch Miller, have announced they are leaving the territory.
After wrestling Ivan Volkoff and Fidel Castro to retain the titles, the New Zealanders announced they are leaving and wished to hand the tag titles to Roddy Piper and Rick Martel. Their rivals Buddy Rose and Ed Wiskowski appear and disputed the decision and protested that they should receive the belts. Piper and Martel stated they did not want any titles that they did not earn and suggest they face Rose and Wiskowski for the vacant straps on 2nd August.
The Sheepherders had a tough last month in Portland especially as they are embroiled in the feud with Rose and Wiskowski. They took their feud into a steel cage on the 22nd in a Steel Cage Hair vs Hair bout. Rose and Williams ended up climbing over the top of the cage and brawled outside. The Playboy gained an advantage and climbed back in to attack Miller to allow Wiskowski to get the pin. Miller and Williams, who had their heads shaved last year after losing single bouts against Piper, were made to have their heads shaved again.
Jonathan Boyd has returned to the area to team up with the Sheepherders on the 19th but then faced Piper in a one-on-one contest on the 26th. The match finished as a time-limit draw and Boyd offered to be Piper's tag partner anytime after the match. Rick Martel is still the PNW champion.
STAMPEDE WRESTLING
Harley Race travelled up to Calgary this past month to defend the NWA World Championship against Hercules Ayala (4/7) and Archie Gouldie (11/7).
VANCOUVER ALL STAR WRESTLING
The Sheepherders-Buddy Rose and Ed Wiskowski war travelled north to Vancouver this past month in a Steel Cage Coal Miners Glove match on 16th July which the New Zealanders won, however, at the end of the month it was a different story. Rose and Wiskowski defeated Miller and Williams in a Loser Leaves Town match (28/7) and the Sheepherders are now gone from All-Star Wrestling.
WORLD WRESTLING FEDERATION
The big Showdown at Shea supershow scheduled to take place next month (9th) at Shea Stadium, the home of the New York Mets, is really starting to take shape. Matches signed so far Bruno Sammartino vs. Larry Zbyszko in a Steel Cage match in a bout that should finally settle that feud. Due to his actions in Japan last month, Hulk Hogan is set to face Andre the Giant. Hogan attacked Andre in a New Japan Pro Wrestling MSG Series bout to cost the Giant his match against Stan Hansen, and now he must face Andre one-on-one. In a WWF Intercontinental Title match, champion Ken Patera will meet the tough challenge of Tony Atlas. WWF Junior Heavyweight title will be on the line as Chavo Guerrero challenges Tatsumi Fujinami. New Japan president Antonio Inoki will meet "Pretty Boy" Larry Sharpe for NWF Heavyweight Title and former IC champion Pat Patterson will go against the vicious Tor Kamata. There are an estimated 30,000 fans due to attend this mega event.
WWF Champion Bob Backlund has been involved in a series of title defenses against Hogan, Zbyszko and Patera but is currently still the champion. He faced the undefeated Hogan twice and lost both times via count out so retained the belt.
NWA WORLD HEAVYWEIGHT CHAMPION

HARLEY RACE
NWA WORLD TAG TEAM CHAMPIONS

RAY STEVENS AND JIMMY SNUKA
1. Antonio Inoki
1. Ricky Steamboat/Jay Youngblood
2. Greg Valentine
2. Giant Baba/Jumbo Tsuruta
3. Ric Flair
3. The Wild Samoans
4. Tony Atlas
4. Matt Borne/Buzz Sawyer
5. Dusty Rhodes
5. The Assassins
6. Tommy Rich
6. The Sheepherders
7. David Von Erich
7. Bugsy McGraw/Dusty Rhodes
8. Bob Backlund
8. Roddy Piper/Rick Martel
9. Stan Hansen
9. Bret and Keith Hart
10. Kerry Von Erich
10. Mr. Wrestling/Steve Keirn
We don't have a match of the month of sorts, but an angle. Here is in full a clip from Georgia Championship Wrestling – July 26th 1980 edition with the footage of Ole Anderson's shocking heel turn. In addition, we hear an interview from Ole explaining his actions and a promo response from Dusty Rhodes. Enjoy.
All Japan: The Summer Action Series concludes and Harley Race is in the land of the rising sun for a series of NWA World Heavyweight title defenses.
Georgia: Ole Anderson has turned his back on Dusty Rhodes, his brother Lars and the fans. All three will be hoping for some retribution.
Florida: Can Dusty Rhodes dethrone Harley Race at the 'Last Tangle of Tampa'?
New Japan: The 30-day Bloody Fight Series 1980 tour begins where Stan Hansen and Antonio Inoki will continue their feud in a series of bouts.
Portland: Now that the Sheepherders have left the territory, will it be Piper and Martel or Rose and Wiskowski that become the new PNW tag team champions?
WWF: We will extensively cover the huge 'Showdown at Shea' show with the truly epic Bruno Sammartino vs. Larry Zbyszko Steel Cage main event. Keep an eye out for a full preview article in the next few days.
As always, thanks for reading…
Sources: Cagematch.net, Mid-Atlantic Gateway, MapleLeafWrestling.com, WrestlingData, Joseph Shedlock's 'Wrestling 80' Newsletters.